When the whole world is following social distancing it becomes another hectic task to find your dog's favourite food by parading daily visits to the numerous supermarket stores. To bail yourself from all such hassles, you can prepare delicious and healthy homemade dog food through the list of recipes provided below. No more expensive canned foods or packaged cereal treats, just follow the brief guide listing top 5 recipes for homemade dog foods that are not only healthy but so scrumptious that your dog won't leave your side in the kitchen while you prepare them. Let's start the hearty recipes for your lovely animal friend that can make your dog more muscular, active and a 'knight with shining fur'! Severa Pro tips are provided to make the preparation process easier and fun. If there's still any query or advice you need kindly feel free to comment. Our animal care professionals will answer it with complete devotion.
List of Homemade Food Recipes for Dogs
1. Chicken Jerky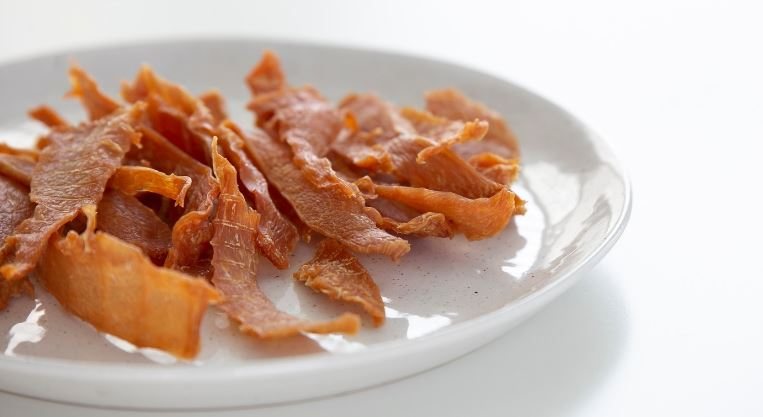 This homemade dog food chicken delight is the best alternative to store-bought rawhides which are not apparently dry but also very expensive. Since chicken jerkies are tough and chewy, it helps a lot in keeping your dog occupied for some time while you calmly prepare its meal in the kitchen. Chicken is a great source of healthy protein, which is very essential for your dog's muscle growth and structure. For some of our vegetarian pups, you can also replace the chicken with sweet potatoes for this recipe. Sweet potatoes make a healthy, vegetarian alternative for dogs. Let's start cooking our delicious homemade dog food!
Read More: Can Pets Catch COVID19 Infection?
Ingredients
2 to 4 chicken breasts or 5-6 sweet potatoes
Directions
Preheat the oven to 200 degrees Fahrenheit.

Extract the extra fat from the chicken as it can harm your dog's metabolism. Now, carefully use a paring knife to slice the chicken breast into 1/8-inches thick strips.

Spread the strips flat and evenly over the baking sheet. Bake for 2 hours.

Check the chicken through the oven window whether the meat is completely dry and hard or not! Once it's done take the crunchy and chewy meat out and allow it to cool completely before serving.

You can store this homemade jerky in an airtight container in the fridge for up to two weeks. 
2. Peanut Butter Cookies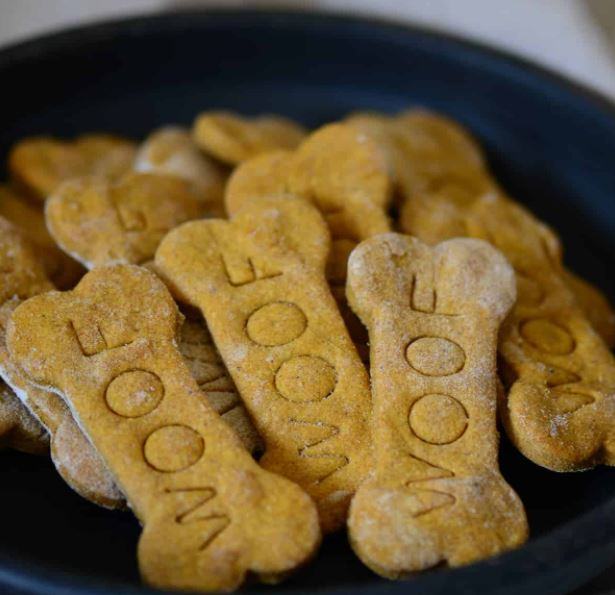 Peanut Butter Cookies, don't get bewildered its not for you but for your dogs. If you might not know, Dogs love peanut butter. Whereas, peanut butter is a great way to sneak some fish oil into your dog's diet improving its furry coat, making it shiny, softer and healthier. This recipe for homemade dog food is vet-approved superhit and lifesaver delicacy which you must try once for your lovely dogs. But be aware of the fact that, many commercial brands of peanut butter infuse unhealthy hydrogenated oils and additives along with xylitol(a sugar substitute)in peanut butter which is highly unhealthy and harmful for your dog's health. Therefore, if possible try using raw peanuts and peanut oil, to make your own homemade peanut butter via processing the mixture in your food processor.
Ingredients
2 cups of wheat flour (white if your dog has allergies)
1 cup of rolled oats
1/3 cup of smooth peanut butter
1 tablespoon of honey
1/2 tablespoon of fish oil
1 1/2 cups of water
Directions
Preheat the oven to 350 degrees Fahrenheit.

Take a large mixing bowl to mix the flour and rolled oats. Pour in one cup of water and blend smoothly until the mixture is even. 

Now add homemade peanut butter, honey, and fish oil in the above mixture for blending properly.

Slowly add the water until the mixture has a thick and doughy consistency.

Flour a cooking surface for rolling the dough and create a finely even around 1/4-inch thick sheet of dough.

Use a cookie cutter to carve out shapes and place the shaped cookies onto a baking sheet for 40 minutes baking.

Allow cooling completely before feeding as the aroma of baked peanut butter cookie can sometimes make dog's crazy while they sear their own tongue by chewing the hot cookies from the bowl.
3. Beef and Vegetable balls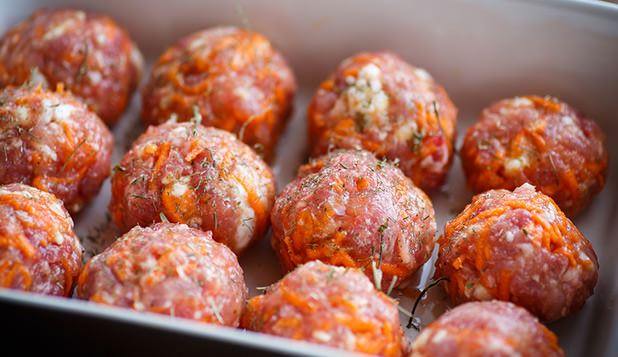 There are many euphoric dogs who prefer meaty treats over sugary ones. This homemade dog recipe treat has a hearty meat flavour and aroma that all dogs love to dote upon. In fact, the everlasting aroma of this homemade dog food never lets your dog leave your side in the kitchen, hence be ready for a furry ball constantly rolling aside your legs with its cute little eyes glazing at the oven window watching its favourite food being cooked marvellously. 
Tip: You can store the leftover beef and vegetable balls in the fridge for up to five days but it's preferable that you try making it fresh so that your dog finishes it in one serving.
Read more: useful tips in choosing a name for your pet
Ingredients
2 170ML jars of organic beef and vegetable baby food.
1 cup of whole-wheat flour (or white substitute if your dog gas allergy)
2 cups of dry milk
1 cup of water
Directions
Preheat the oven to 350 degrees Fahrenheit.

Mix all the above-given ingredients in a large mixing bowl evenly.

Drop the mixture as a spoonful onto a large baking sheet.

Bake these dollops of mixture in the preheated oven for 12 to 15 minutes.

Allow the treats to cool completely for your dogs staring eyes to finally taste the meal they've been eagerly waiting for.
4. Doggy Beans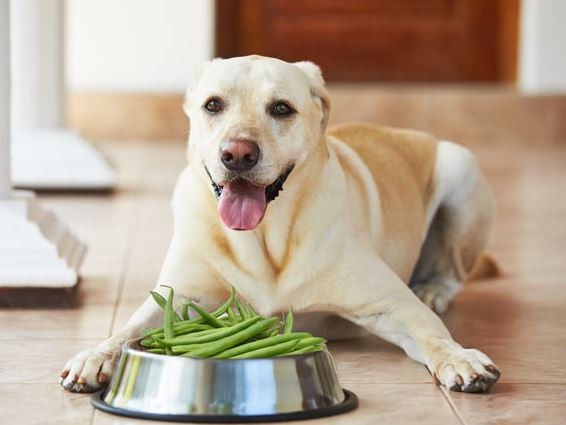 Well, If you have been binge browsing various homemade dog foods then surely you might know that beans are a very good source of protein when it comes to homemade dog food supplements. As already discussed dogs need large amounts of protein to keep them healthy and active. Therefore, beans can also serve as the great deal breaker if you can't afford sometimes the juicy meat of either of the above. Since this dog food recipe blends chicken, beans, and vegetables it becomes a really wholesome diet for your furry partner.
Tip: You can store the leftover doggy beans in the fridge for up to five days so don't get worried if you made extra out of excitement.
Ingredients
4 chicken breasts
1 cup of kidney beans, drained
1 cup of black beans, drained
1 cup of carrots, diced
1/2 cup of tomato paste
4 cups of chicken broth
Directions
Remove the extra fat and slice the chicken breasts with a sharp knife carefully into nickel-size pieces.

Cook these chicken breasts over a non-stick skillet or pan until all the pinkish taint is gone from the meat slices.

Add the chicken slices, beans, carrots, tomato paste, and chicken broth into a large pot and cook over medium heat until all the ingredients are thoroughly mixed and cooked ( takes about 10 minutes).

Allow the mixture to cool before serving.
5. Fruit Parfait for dogs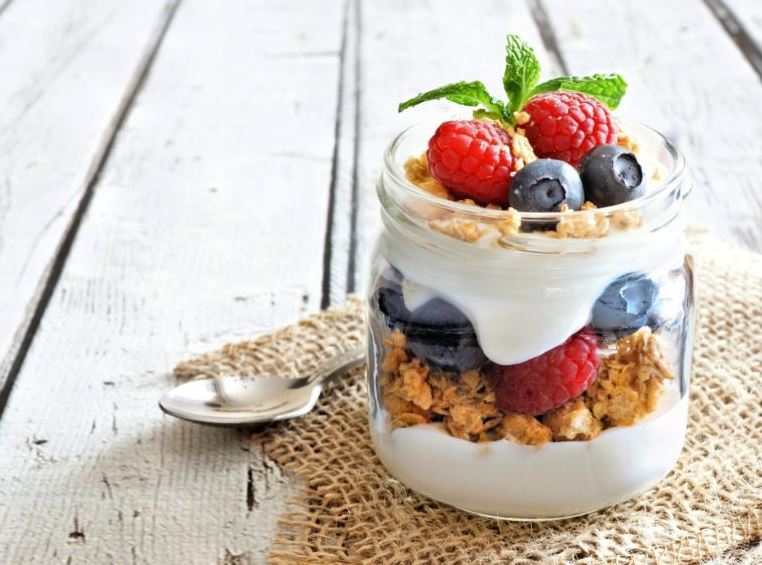 Surely, just like us the dogs also deserve a nice dessert every once in a while. That doesn't mean shove up a regular ice cream cone in its mouth. That's really unhealthy for your dog's overall body sugar level. Since this delicious homemade dog food recipe is vet-approved and it mixes dairy and fruit products altogether it constitutes a really great dessert meal which is full of nice vitamins and proteins. Not only it tastes great but also gives your pup a nice healthy hunch.
Tip: Just keep in mind that on the days you plan to serve your pup a fruit parfait, reduce the amount of regular food by 1 cup to 1/2 cup to keep it from overfeeding as fruit parfait can be really heavy in comparison to other regular homemade dog foods.
Read more: homemade dog food
Ingredients
1/2 cup plain non-fat yoghurt
1/2 cup of strawberries, diced
1/2 cup of blueberries, diced
1/2 cup of apple sauce
Directions
Take a big bowl to blend thoroughly all the above mentioned ingredients until the yoghurt is smooth and the fruit is well-blended.

Serve in small amounts to your dog.

Try to freeze it if your dog loves popsicle items.

You can store this homemade dog food recipe in the fridge for up to seven days so feel free to give you pup small dozes of sugary treats after its daily meals.
Hope you liked the listed top 5 homemade dog food recipes mentioned above in detail with their ingredients and directions of cooking. You can now serve your furry partner with these healthy delicacies without being worried about its health as the best feature about homemade dog food is- you know what is going inside your doggy's bowl! Not only the above mentioned homemade dog food recipes reduce your daily visits at the pet food stores but it also apparently answers the most worried query of dog owners i.e. Is homemade dog food healthy? The above-mentioned useful medical importance of the ingredients included in the recipe of dog food confirms that all the recipes are entirely healthy and delicious that you can easily prepare at home.
The post Top 5 Homemade Dog Food Recipes| Best Homemade Dog Foods appeared first on .