Dogs: The most friendly creatures on earth still are prone to depression and separation anxiety. If you are confused about how it can be possible then you are at the right place. In general, you see anxiety in dogs when you leave them alone at home. This may be because they haven't developed the habit of living alone yet. If you are about to leave your pet alone at home then you have to prepare them well before doing that. Otherwise, they will suffer from separation anxiety and depression. Also, you will notice a change in their behavior soon after coming back home. 
Every dog should be trained to stay at home alone as circumstances can arise anytime that you have to leave your dog at home alone. Proper training will not only help them to stay joyful at home but will also not trouble you anymore being thoughtful about the whereabouts of your furry pals. 
Things to consider while leaving your Dog Alone at home.
Dogs are friendly creatures, they love to be surrounded by people they love. Hopefully, this covid situation has given you enough time to spend with your furry partner. As the situation is getting back to normal and it's high time for you to join your office. Amid all this, if you are troubled about how your dog will manage alone at home then you will get a lot of things to learn from this article. 
Age
The most important thing that we need to consider while leaving the pet dog alone at home is their age. Young dogs are not in the habit of being alone. They need an attendant all the time to serve them food, take them for a pee walk, and do Potty breaks. Dogs of different ages usually have different perspectives when it's to staying alone. Some dogs are normal with this and don't suffer from anxiety when being left alone but others are not in the practice of staying alone. If you own a pet dog and are soon planning to join your work then it's time to train your dog to stay alone at home. 
Read more: Fruits and vegetables to include in dogs' diets
Health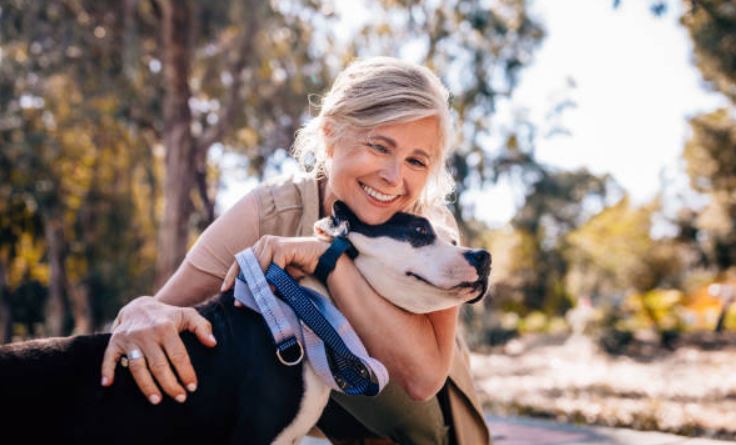 The other major thing that needs to be checked before leaving home is their physical health. Adult dogs aged 18 months or more are okay with staying alone at home. They are less prone to disease, don't need to pee frequently, can manage without food for long, and can spend most of their time sleeping alone at home. These dogs are equal blessings for pet owners. They don't need to bother about the whereabouts of their pets while you are out. On the other hand, young puppies and Elderly dogs need special care all the time. The maximum time for which you can leave them alone is for 2 hours. In case you own an elderly or young dog, you need to keep a mate to take care of them. They are not very affluent in health, hence might need to go to pee frequently. 
Food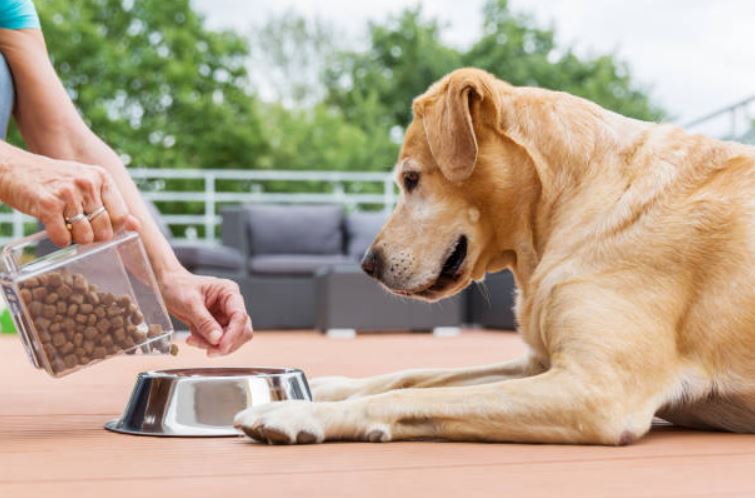 The third and the most important thing that you need to manage before leaving your dog alone at home is food. You need to provide them with an adequate amount of food to eat before leaving the house so that they don't start feeling hungry soon. Also, fill up their vessel in advance so that they can feed themself on their own in your absence. 
How to
Prepare Your Dog to Be Left at Home Alone
?
Separation anxiety is common in young puppies as they never came across such a situation when they have to live without their owner. Hence they are more prone to depression and volatility when humans are not around. Dogs are different from humans in every aspect and hence they need special care while training. If you've recently owned a dog or puppy in your family then it's really important to tell them that being alone at home can be fun. They can do whatever they want. One thing you should always remember is that don't rush and take things at the dog's pace. Don't make the training session distressing for your dog as they will not like it at all and will never be able to stay alone. 
Read more: Fun Ways to Include Your Pet in Holiday Festivities
Here are the steps to train Your Dog to Be Left at Home Alone. These steps will help them to overcome sudden separation anxiety in pets. But firstly remember, you need to praise them on every step to proceed with the training. Dogs love gifts and you can offer them delicious treats and toys to make them participate in the training. 
Manipulate them to stay in their bed.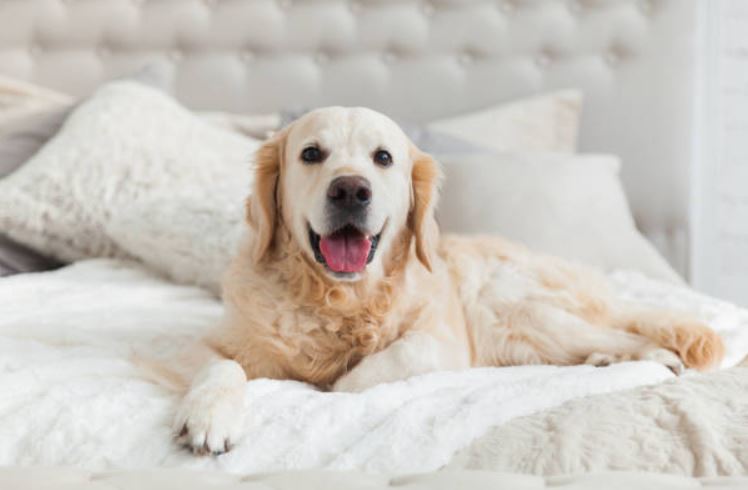 It happens with every pet owner that their dog keeps following them wherever they go. The thing might look affectionate sometimes but it gets hard when you have to leave your dog alone at home and go out to work. So, you need to teach them that following is not the right thing to do every time. You should encourage them more to stay in their bed. 
Initiate this by moving out of the bed and encouraging them to stay in bed. Start with a short duration and steadily increase the timing, as soon as your dog starts getting comfortable with it. Don't forget to praise them every time they stay in their bed. 
Disappear suddenly and see their reaction.
As soon as they opt for a habit to stay in bed without you it's time to move to the next step. In this part, you have to disappear abruptly without letting them know. Make sure to keep a look at their reaction. You need to observe what they do when they do not find you besides you.
If they react normally, award them with their favorite food. If they start getting anxious then come out and help them to understand that you are just in the house. Repeat this multiple times until your dog starts enjoying the process of finding you unexpectedly. Once they qualify for this stage of staying alone at home, reward them with some toys. 
Read more: What You Need to Know Before Adopting a Bird
Leave the room for a while.
Your dog is now comfortable staying alone and comfortable in your absence and you are now ready to move to the next step of training. This time you don't have to disappear but have to leave the room without making them notice. You can also lock the room and keep a check on your dog from the keyhole. If they start feeling disquiet and distressed immediately unlock the room and make them comfortable. Pamper them and repeat the process until they stay behaving cool-headed while staying alone in a closed room. 
This process will take longer than usual if you have a young pet. They are softhearted and get anxious quickly when they don't find anyone besides them. This might also lead them into depression and you need to take the process slow and steady so that they are also able to adapt to the situation accordingly. However, Adult dogs and elder dogs are very quick with adjusting to the situation and start getting habitual to such things. 
Increase the duration and try for a couple of hours this time.
Hopefully, by now your dog will have gotten used to living without you for long if you have trained them properly. Now your dog is completely ready to be alone at home without you. You can now leave them alone at home for a couple of hours without troubled about their whereabouts. 
While doing this for the first time you need to keep a look at their behavior if they are normal with it or not. For this, you can install a hidden camera in your house and connect it with the mobile device to see their reaction. 
If the dog is comfortably doing all the regular pieces of stuff without getting anxious then congratulations to you for such positive training. Your dog is now at the stage where you can leave your dog alone at home and they are happy to be left for up to hours. 
Read more: How to Get Rid of Stinky Pet Odors
This time award them with something big and delicious that they would love to eat or play with. Sometimes, the process of teaching your dog to deal with separation anxiety takes longer than usual. In such a situation, remember not to panic. You will surely be able to teach your dog to deal with separation anxiety. All it requires is time, patience, and a positive approach. Also, do not punish your dog if they start getting anxious, worried, or disturbed not seeing you in the house. Instead, repeat the process multiple times and give them time to adapt to the situation until they start getting normal without you. 
How to make a homestay experience cozy and comfortable for dogs?
Dogs are particular about their belongings and their comfort. Once you provide them with a comfortable place or fancy equipment it is all theirs. You are no longer an owner of it. If you are leaving your dog alone at home then you have to ensure their comfort. Otherwise, they will start feeling distressed and anxious as soon as you leave the house. To make the solo stay of the dog comfortable at home while you are out for work you can follow the below steps. 
Make their bed cozy as much as you can.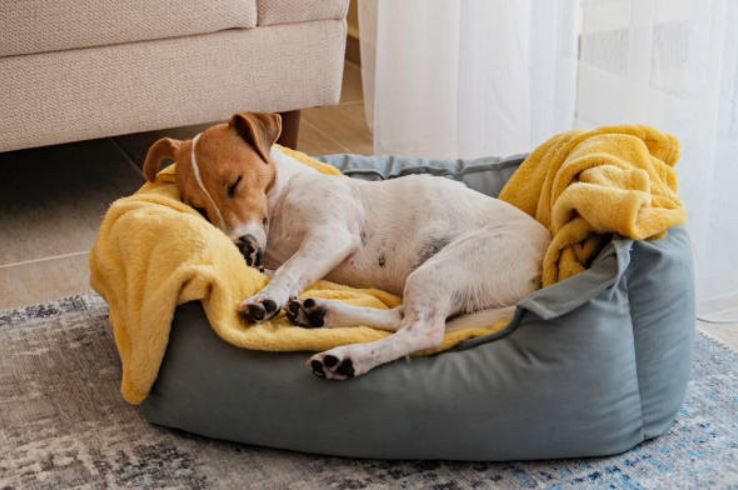 Dogs usually love to crawl in fluffy places like sofas and cushioned beds. To make sure that they are comfortable enough at home you have to prepare their bed of thick fluffy material. The more comfortable you make the bed, the more time the dog will spend sleeping and relaxing on it. 
Bring them fancy toys to play with.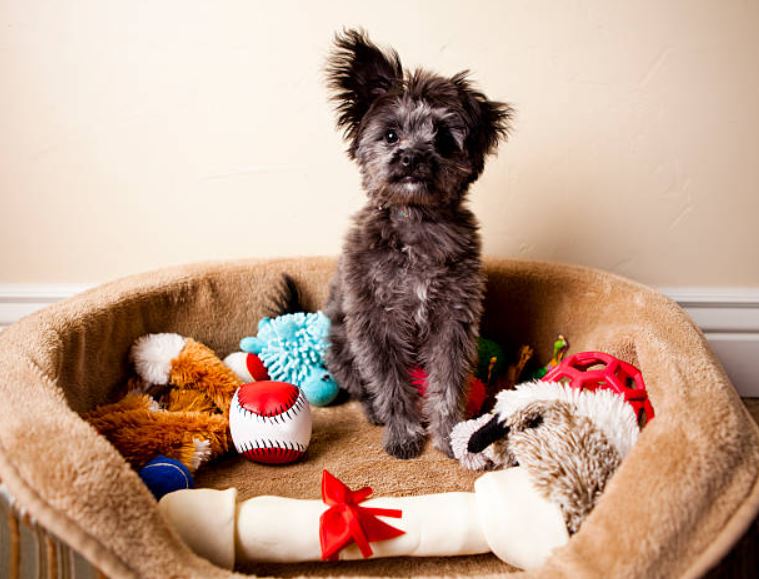 While you are not at home, your dog might miss playing with you. But you can really overcome this situation by bringing them attractive toys and 
You can bring multiple toys at a time and give them one every time you leave for work. They keep engaged in playing with that toy in your absence and that's how they miss you somewhat less. 




Use Food puzzles to keep them occupied for a long time.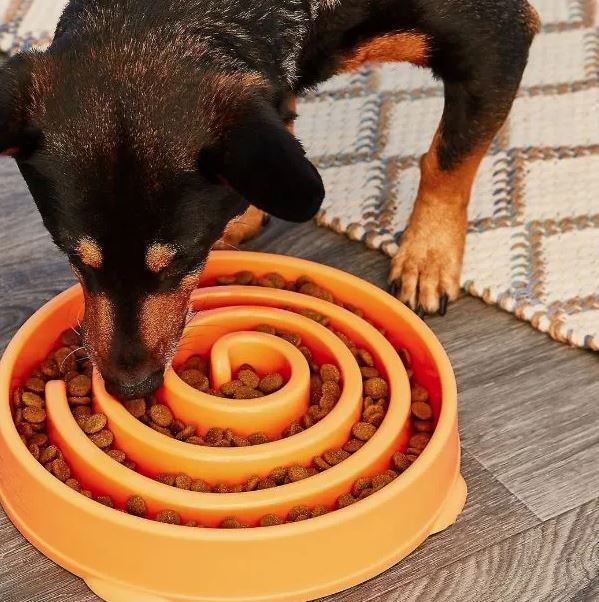 Food puzzles are plastic toys with food inside it. Your dog has to work with the puzzles to get the food reward packed inside it. To maneuver the puzzles they can lick, toss or roll them with their paws. You can leave food puzzles while going out so that whenever the dog feels hungry he makes an effort to earn food. Also, these puzzles are genuinely effective ways to keep them distracted for hours. 
Take them for Exercise or a long walk before going out.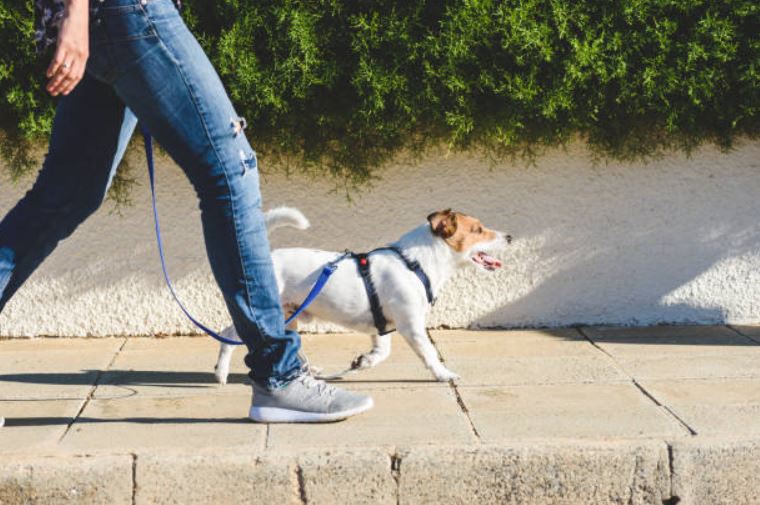 This exercise or a walk is not obvious to keep your dog healthy but to make him tired. A tired dog is always a happy dog and taking them for an exercise allows you enough time to come back. Meanwhile, your dog is tired and he will probably spend time taking a nap and relaxing on the bed. 
Read more: Hacks to keep your home clean with multiple pets
All these things will make the homestay experience for your dog comfortable and fun. Also, train them until they get comfortable staying alone at home. Once your prepare your dog to stay at home, you would be able to leave them and go out to work without any stress.
The post Prepare Your Dog to Be Left at Home Alone-Pets devotee appeared first on .