Exercise is the most crucial activity to keep an individual active and healthy. Humans and animals both need to exercise regularly to stay healthy for an extended period of time. But as you know, winter is on the way, and everyone becomes lazy during this time. If you're the type of person who would rather stay inside than brave the cold to exercise your dog, consider the following option:
We know that it feels amazing to walk on a well-paved path under the sun, but seasons change, and when it's winter, you hardly get to see the sun in many parts of the world. To help you with this, we are here with some indoor exercise for dogs. No matter whether you are staying in a tropical area or in the arctic region, there are a number of ways to exercise your dog when the weather is cold. 
There's no need to panic if your dog shivers in the cold; there are a few things you can do to keep them warm and active in winter. So, let's move ahead and learn about all the popular indoor exercises that we all can do with our dogs in the winter without the hassle of getting out in freezing weather.
1. Play fetch
Fetching is one of the most entertaining and exhilarating indoor games for dogs. Just choose a wide, uncluttered space in your house like a hall or drawing room to play this game. 
Take a few of your dog's favorite things, such as a toy, ball, or frisbee, and start throwing them one by one, then ask your dog to get them. This will become a good exercise for dogs in winters and help them to keep their body warm for longer when done multiple times.
2. Shuffle Up and Down the Stairs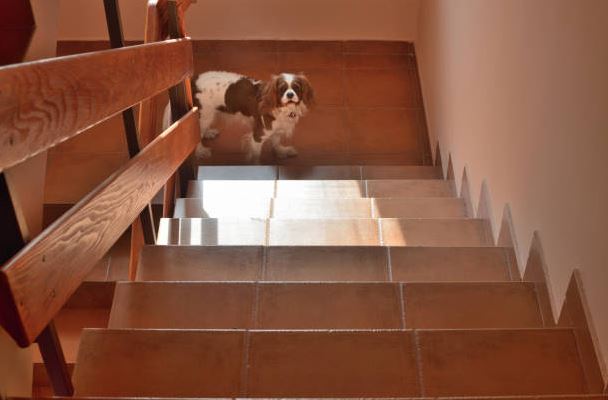 If your dog does not want to go outside in the winter because it is too cold,  you can just exercise him by shuffling him up and down the stairs. You stay at either the upper or lower end of the stairs and throw a ball toward the opposite end. Ask your dog to fetch the ball for you and have him do it more until he starts enjoying the game. 
If you too is lacking physical activity, you can climb the stairs along with your dog or let him chase you. Your dog will feel sporty in both situations. 
3. Throw your own doggie Olympics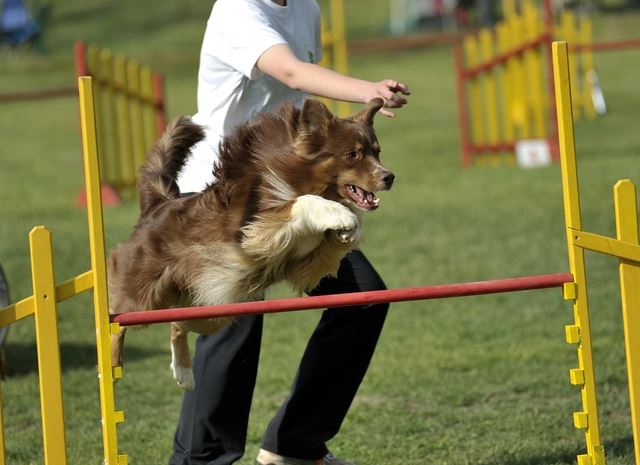 Many countries host "dog Olympics," in which thousands of healthy dogs compete in an obstacle race to win prizes for their owners. If you feel like your dog is getting lazier day by day, you can host your own doggie Olympics to motivate him. 
Make sure to invite other pet owners along with their pets for participation. Believe me! this will be a fun activity for your dog while keeping him energetic. 
4. Perform Doga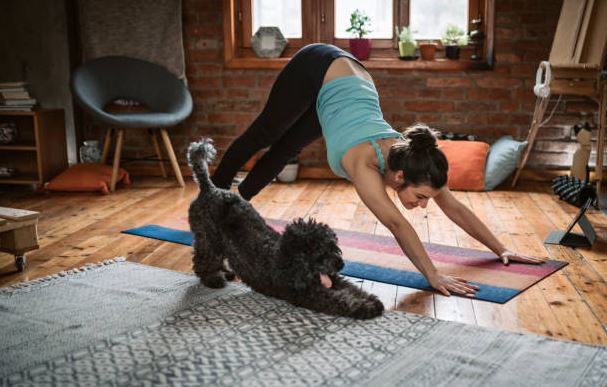 Dog yoga, or doga, is great for stretching and relaxing, for both dog and owner. They say it helps them relax and feel closer to their dogs, and so more people are taking up doga as a form of therapy. If it's too cold outside, then you can perform doga with your furry partner inside your house. 
5. Run on a treadmill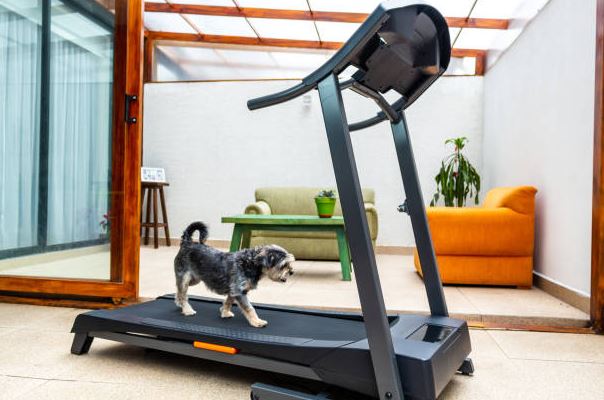 The treadmill is the most useful sports equipment for humans, as it allows them to walk, run, or climb while staying in the same place. But would you believe me if I told you that it can be equally helpful for your pet, as they can also run on the treadmill to stay healthy?
Running on a treadmill is among the best indoor exercises for dogs, as most of us find it very lethargic to take our dogs out for a walk during the winter months. This exercise for dogs helps to keep the dog's muscles toned and healthy in the winter.
6. Take them on a house tour
Your dog might know about every corner of your house, but in the winter when it's cold outside, you can take them on a house tour one more time just to keep them active. Just go for a walk with your dog and take a thorough tour of the house. 
Wintertime indoor walking for dogs will be a beneficial exercise while keeping them out of the freezing cold.
7. Make an Obstacle Course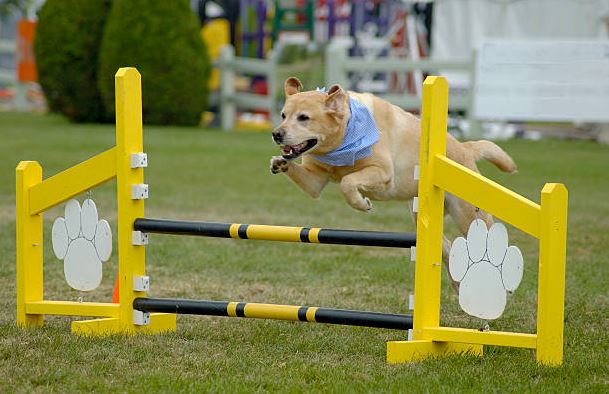 This is another fun activity for dogs that keeps them active in the winter. For this, you need multiple objects that can create obstacles on the path. Your dog has to jump, dodge, hop, and slide through these objects to win the obstacle course and win treats. 
8. Pacing
This is another great exercise for hyper dogs. You can set a timer for a certain amount of time and have your dog run around in a circle or square while you keep track of how long they have been running.
9. Bubble Chasing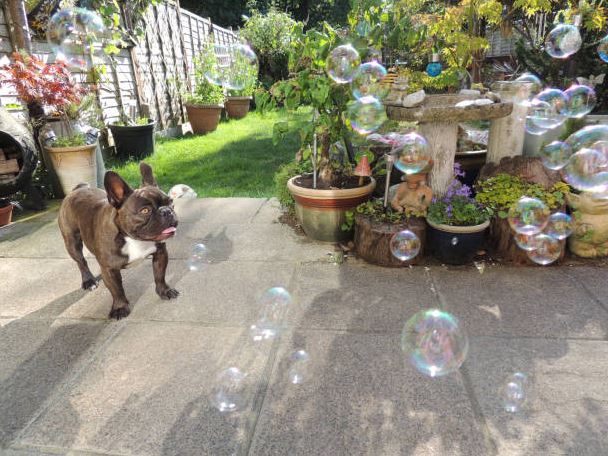 Bubble chasing is among the fun games to play with your dog inside. It is something that will appeal to both children and their canine companions. If you are concerned about your canine companion ingesting suds, you can purchase edible bubbles for dogs at pet stores or buy them online. You can also replace the bubble with homemade cookies or some other treats to make this a healthy chase. 
10. A game of "hop and catch" would be entertaining
It is another fun game that provides as much warmth as doing exercise. In this game, you need to hold an object at a distance from the ground and provoke your furry partner to hop and catch the object. Make sure to use your dog's favorite things, like their favorite cookie or any toy, as props to persuade them. 
Despite the fact that your dog may not be able to go outside as often in the winter due to the freezing temperatures and icy conditions, that doesn't mean you have to keep him inside until spring. Dogs of all sizes and breeds like to play in the snow once in a while, as long as they are always watched and are only out in the cold for short periods. So, you can definitely go out with your dogs in the winter, but you have to take extra precautions while doing so. 
I hope these fun activities will help you perform dog exercise at home without the hassle of going out. Play fetch with them, run a few laps with them, or just take them for a stroll, just be sure to keep them warm, and hydrated, and feed them well before taking them out for an exercise session. Here is the list of things that you can feed your dogs in winter. Also, make sure they have plenty of toys to play with to keep them entertained.
The post How to exercise with your dog when it's too cold outside appeared first on .