Picking out the best toy for your pet may be tricky, whether you have a new puppy or your dog has been a member of your family for many years. To begin, choose a toy that is appropriate for your dog's personality and chewing tendencies. In addition, taking your dog to a pet shop and allowing her to choose her own toy may be entertaining! Choosing the proper toy for your dog, on the other hand, is not always straightforward. It may take a little trial and error until you locate the right toy that she will quickly develop attached to and enjoy.
What Is the Purpose of Dog Toys? 
Walking dogs provide physical exercise, but mental stimulation also helps them maintain their fitness, health, and happiness. Dogs who exercise their mental focus are exhausted and pleased. It doesn't matter if they're chasing a ball, throwing a frisbee, or trying to get the kibble out of a puzzle toy.
When a dog does not have enough stimulation (physical or mental), he or she is more likely to express its pent-up energy in an undesired way, such as chewing its owner's socks or destroying a piece of furniture. This is why it's critical to provide your dog with lots of mental and physical stimulation.
Make use of this list to assist you in selecting the finest toys for your dog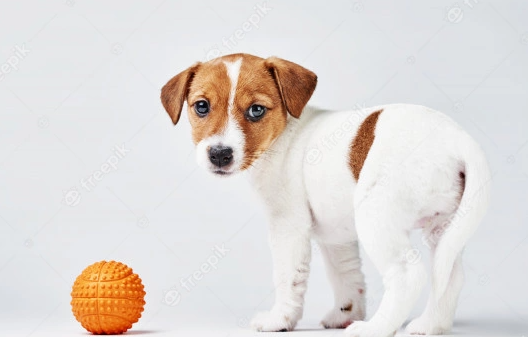 Dog Toys Made of Hard Rubber
Hard rubber toys offer several advantages that make them an excellent alternative for particularly aggressive chewers. These toys are very durable, and they give jaw and mouth workouts for dogs that like chewing on their toys. Hard rubber toys can keep most dogs interested for hours at a time and are adaptable enough to be used for retrieve or non-interactive play in different situations.
Some hard rubber toys are hollow, and they may be filled with sweets like peanut butter to provide additional entertainment and intellectual stimulation. Hard rubber toys like Kongs, Planet Pets, and Rhino Chew Toys are examples of this toy.
Dog Toys Made of Viny
Vinyl toys are soft and readily compacted by the bite of any dog, regardless of its size. It is recommended that these toys be used with dogs that are not aggressive chewers. Vinyl toys are not as durable as hard rubber toys, which are more expensive. Many vinyl toys include squeakers, which virtually all dogs find entertaining. Vinyl toys are excellent for retrieving, but they are also famous for solo play because of the squeakers on the toys.




Soft dog Toys
Faux fur and plush fabrics are used to make soft toys. Some right toys for dogs are filled with squeakers, while others are simply filled with polyester fibers or similar materials. These toys are among the most popular for playing fetch because they are so durable. Soft toys are not exceptionally long-lasting (think along the lines of a stuffed animal). These are generally best suited for dogs that do not destroy their toys when they play with them. Some dogs just like carrying them around and snuggling with them.
Toys made with rope
Playing fetch, tug games, and chewing on rope toys are all enjoyable activities for your dog. Rope toys are available in several tastes as well. Rope toys are often long-lasting and generally sturdy, making them suitable for both dogs with gentle bites and dogs with more aggressive chewing habits.
Chews and bones made with rawhide
Rawhide chews and bones may be beneficial in maintaining a dog's oral health. Rawhide chews and bones assist in the removal of plaque and tartar from the surface of the teeth. Maintaining a clean and white smile is much easier with this method. Rawhide chews are excellent alternatives for very aggressive chewers.
When it comes to dogs that don't love chewing as much as other dogs, rawhide chips are a softer choice that some dogs may find more appealing. Rawhide chews and bones are available in a wide variety of tastes, sizes, and forms.
Bones made of nylon
Nylon bones are an excellent alternative for dogs that like chewing on their bones. Because they eliminate plaque and are non-abrasive, these toys may also aid in the promotion of good oral health. Nylon bones are excellent for relieving boredom since they give hours and hours of chewing entertainment. Nylon bones are also available in a variety of tastes and sizes.




Discs and Other Retrieving Toys
Dogs that like fetching balls and other retrieval toys are more likely to appreciate discs and other retrieval toys. When it comes to bringing, the disc is a little more adaptable than a ball since you can modify the speed of the disc and cause it to change direction. This variety will provide your dog with more challenges and will keep him from becoming bored. Alternative retrieve toys may be manufactured of various materials, including rubber, plastic, rope, and other materials.
Toys with a plush texture
Plush toys are a favorite of many dogs. These creatures will either carry them about like infants or rip them apart as prey. Squeakers and some kind of filling are often seen in stuffed dog toys. Dogs often tear through them, causing the stuffing to splatter all over the place. Many dogs seem to be attempting to "kill" their "prey" by destroying the squeaker to "kill" them. Even after the toy has been "dead," children may sometimes bring it around and shake it.
When your dog is playing with soft toys, keep an eye on her to make sure she doesn't ingest any stuffing or squeakers. These are essentially the outsides of stuffed toys with squeakers. However, they do not contain any filling. Plush toys will not survive long in the hands of aggressive chewers, but they may still provide hours of entertainment (with supervision). Some firms, like Kong Ballistic, create extreme plush toys to allow for extended periods of chewing time.
Toys that dispense food
Dog toys that provide food and treatment should be present in every dog's home. They provide entertainment and cerebral stimulation for dogs and a fantastic outlet for their excess energy. Dog toys that dispense food are available in various forms and sizes and are often constructed of rubber or plastic.
The Kong is perhaps the most well-known of all food-dispensing dog toys, and it can be loaded with treats, kibble, peanut butter, and a variety of other food items. They can keep your dog entertained for hours at a time.
Toys to Pull are available in a variety of sizes and shapes
Many dogs like engaging in tug-of-war competitions. It is a healthy demonstration of a dog's predatory instincts, as well as a terrific form of mental and physical exercise. Many different tug toys are available on the market, each with a unique shape, size, and substance. Toys constructed of rope and rubber are often found in stores.
Tugging toys should be comfortable for you to hold in your hand while pulling on them, as well as simple for your dog to bite and pull on. Additionally, tug toys should be robust enough to withstand the force with which your dog pulls on them. Replace old or frayed tug toys to ensure that they do not break amid a game of tug-of-war and injure another player.



Toys that float
Dogs that like swimming will enjoy playing with floatation toys. Floating balls, rings, and other toys, which are often made of foam, rubber, or plastic, are simple for your dog to discover and grip when playing in the water with them.
The post How to Choose the Right Toys for Your Dog appeared first on .