Dogs are an integral part of the family and it's really an occasion of celebration when it's their birthday. We plan a lot of things when it's the birthday of our friends or any family members. Then how can we forget or neglect the birthday of our favorite furry partner?
Celebrating your dog's birthday in a funny way is as important as celebrating yours. Earlier, people do so to make their dogs feel good but nowadays it is a matter of prominence for all as we live in modern society. Hence people hunt around for fun ways to celebrate dogs' birthdays. Today, in this blog we will tell you some inexpensive and best ways to celebrate your furry partner's birthday. 
We are unrestricted to doing anything and everything to make our dogs' birthdays special and memorable for them. However, hosting a birthday party is not everyone's cup of tea. You need to do a lot of planning and preparation to host your dog's birthday party with flawlessness. Hence we are here to help you with some amazing birthday party ideas. If you are among the ones who love their dogs and want to make them feel like a family member then here are some amazing ideas to celebrate your dog's birthday.
Let's move forth and know about the
best ways to celebrate a dog's birthday
1. Decorate the place
It is the most common thing that we all do while celebrating something at home. No matter whether it's a birthday or anniversary we all love to decorate our houses for every special occasion. And when it's your best hooman birthday the decoration is all worth it. 
To celebrate your dog's birthday at home memorable it is a must to decorate the house with balloons, Banners, Confetti, and birthday caps. Make sure to bring a cap for your canny too. A simple decoration for your dog's birthday party will surprise them.
Read more: Reasons Why German Shepherd is a Good Family Dog
2. Pet-themed party favors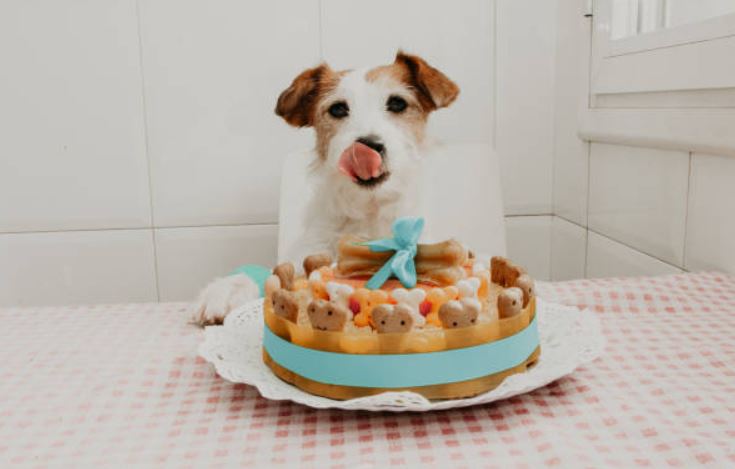 It is necessary to include Pet-themed treats in the bday party of your canny to make it even special. There are several shops and bakery stores available online that bake Pet-friendly birthday treats. If you are short of funds then you can also try to bake some pet-friendly cookies and cakes at home as well. Pet-themed treats can include lollipops, home-baked biscuits, bones, and toys. Including these treats will make your dog's birthday party extra special 
3. Go for a trip to the park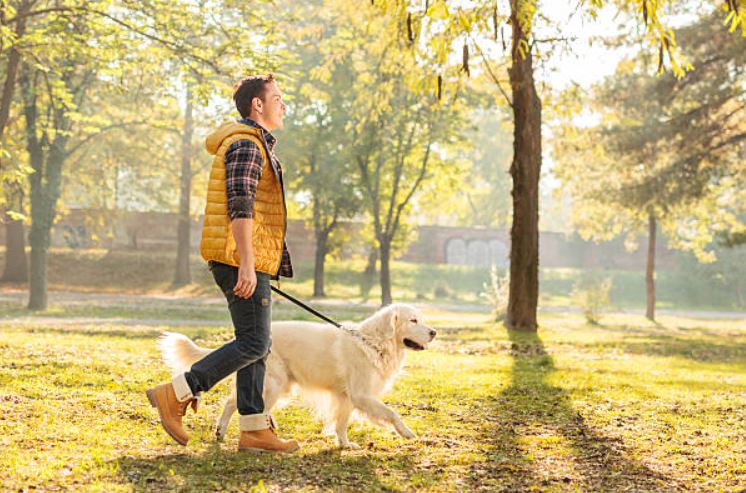 Well, if you have planned a party for your dog's birthday then you have a lot of things to do beforehand. But, all that arrangement can be carried forward by other people also. However, taking your furry partner to the park is something that you can't miss on his birthday. You can take your dog to a nearby park where they can run around and play with other dogs. If you have a large property, consider setting up a separate area just for them to enjoy.
4. Take them on a walk through the neighborhood
If you can't manage the timing and take your dog to the park then you have to think about a substitute for it. In my opinion, the best substitute for this is to take them for a walk in the neighborhood. If you live in a small town then you definitely have lots of unoccupied space near your house. You can take your dog for a walk down the street and this will surely cheer up your canny friend. Meanwhile, you get a lot of time to prepare surprises for the birthday party. 
Read more: Common Signs of Stress in Dogs and Cats
5. Buy them doggy ice cream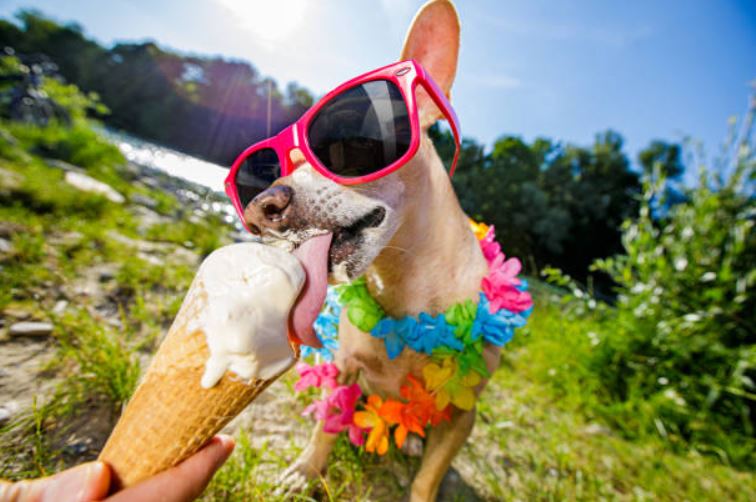 Ice cream is the favorite treat for dogs and it is mandated to buy them their favorite ice cream on their birthday. While coming back home from the park you can bring them ice cream. Make sure to buy the one that doesn't lead them to gastrointestinal problems. 
Moreover, if you want to save some more penny then it would be better to prepare homemade ice cream using fresh ingredients. You can use their favorite fruits, and cream to freeze at home 
6. Buy them a cute party outfit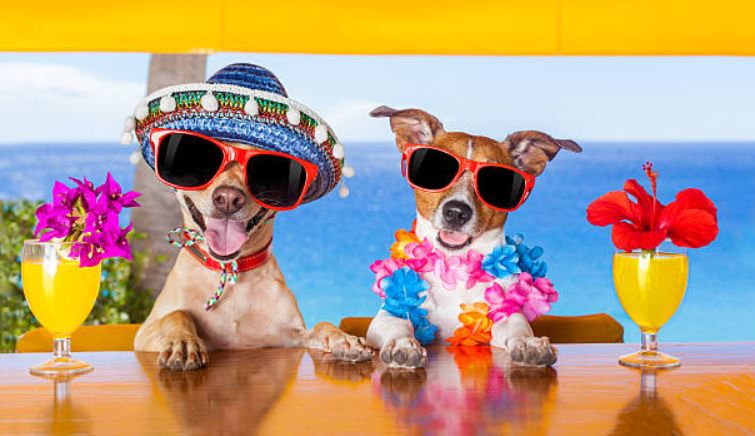 Like you, your dog also needs to look special and cute on their birthday. It would be great to buy them a cute party outfit for their birthday. A dog party outfit can be bought online or from offline stores. You can buy it from anywhere that suits your pocket. However, in my suggestion purchasing it online would cost you cheaper. Also, you will get a lot of attractive color options to choose from. 
Another way to surprise your dog on their birthday is to design a customized dress. There are several websites that deal in designing customized dresses for a pet. Wearing this cute party outfit your dog will look charming and adorable. 
7. Bake a special cake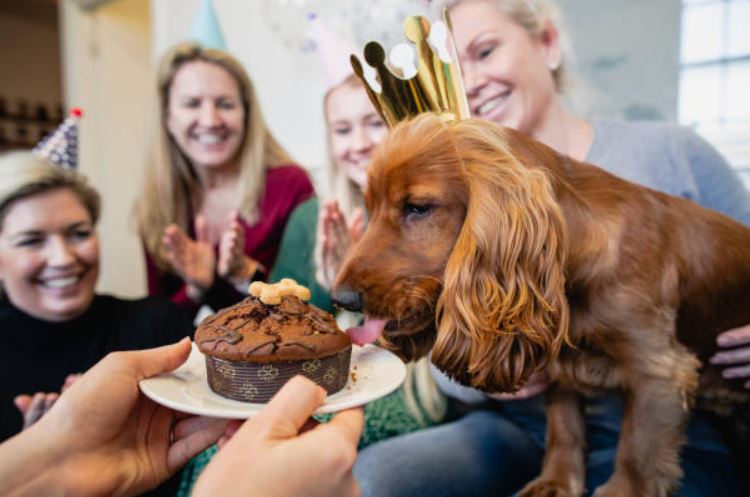 It is impossible to celebrate dog's birthday without a cake. And when it is the birthday of your favorite family member, it is a compulsion that the cake should be awesome. You can either bake a cake at home using fruits, vegetables, cheese, dry fruits, and other food of your dog's choice. Don't worry if you aren't a baking expert. You could even use a box mix if you want. Just follow the directions written on the back of the box and you will get a really nice-looking cake. Alternatively, you can contact any local pet bakery shop to bake a fresh cake to cut on the occasion of your furry partner. 
Read more: Prepare Your Dog to Be Left at Home Alone
8. Visit a dog-friendly restaurant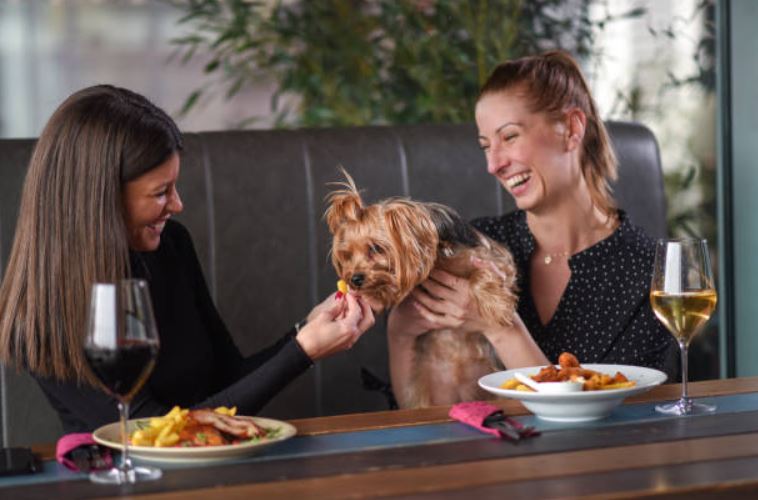 There are so many dog-friendly restaurants open in the town offering pet-friendly meals. If you are staying in a complex apartment where you don't have enough space to invite all the friends of your dog then simply head to these restaurants. Also, these cafes are the best place to celebrate your dog's birthday. Here you can order delicious food and enjoy them amid the charming ambiance. 
9. Host a small gathering with their companions
Dogs usually have selected friends and Inviting all the companions of your pup to your house is the best way to celebrate dog's birthday and cheer them on their special day. Inviting them all with their respective owners will create a small get-together. But before you call the companions make sure that your doggy is looking smart and presentable after all it's his birthday today.
When everyone arrives take them to the cake cutting ceremony and give them the dog-friendly cake. 
10. Pampering is the best way to boost their mood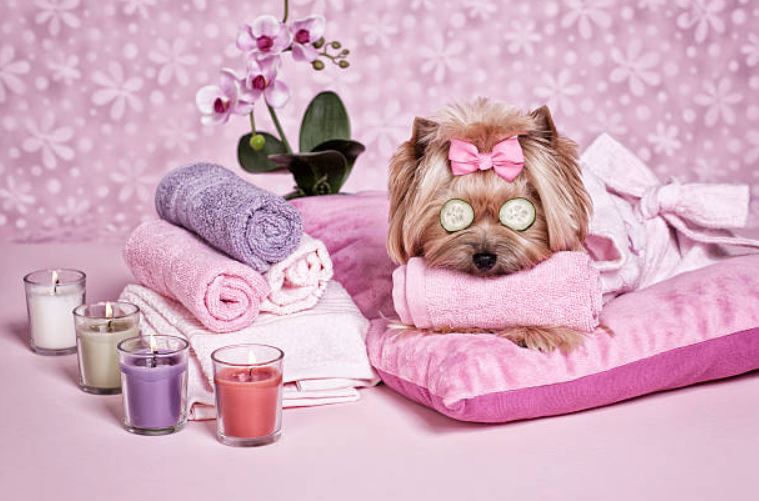 Your dog might feel low after seeing a lot of people around him. To boost up their mood you need to pamper them a little more. You can take them to a spa, do the hairstyling, or just sit with them on your bed after the party. This will help them to get relaxed after an exaggerated day. Also, dogs love to be spoiled and cherished and on their birthday you can pamper them for being a part of your life. 
Moreover, you can also arrange to give a homely spa experience at home. Just arrange a huge bathtub, a brush, and foam-based soap and you are ready to give a spa.
Read more: Fruits and Veggies that Double as Healthy Dog Treats
11. Plan a solo trip with your furry partner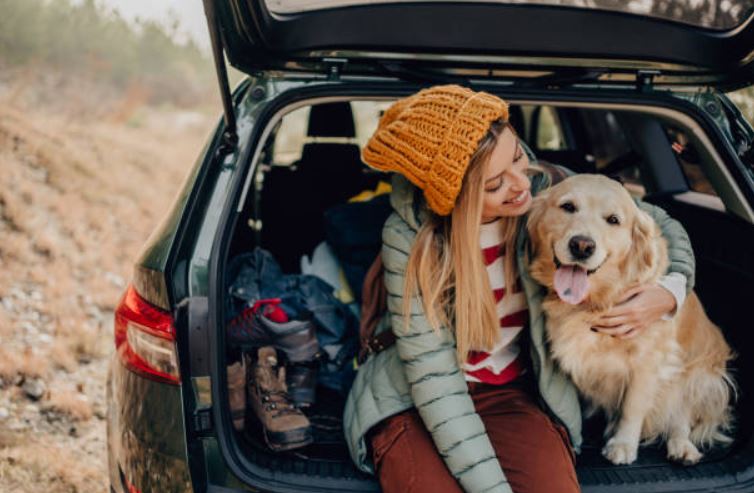 If you are planning a trip but are unable to make it successful due to some hindrance then his birthday is the best time to make this plan successful. It is not necessary to plan a long trip. You can even arrange a short trip for one day. You can either take them to a park for a picnic or any dog-friendly cafe and let them befriend other canines. Going on shopping is also a great idea to spend an entire day with your goofy partner. 
12. Click best birthday portrait with your furry partner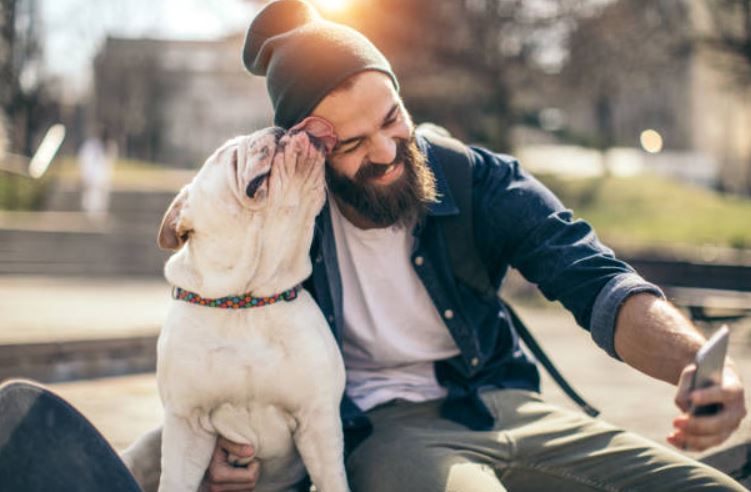 How can you forget to take pictures with your furry partner when you have invested so much effort and money to transform your pooch into a superstar? Well everyone loves to click pictures and so that your goofy partner. You can either hire a professional photographer or just fix the tripod in the front to click beautiful pictures of your furry partner. 
Aside from this, you can take an appointment with a local photographer to click a special birthday picture. Frame this picture and hand it in your room to cherish this birthday as the best memory. 
13. Let Your Dog Go Wild While Unwrapping His Gifts!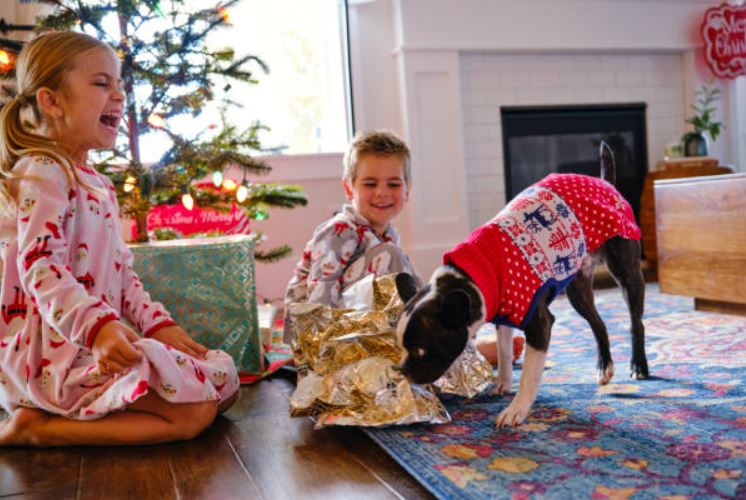 Let the doggo unwrap his gift instead of you doing it. It will be a great experience to see your dog rolling and tapping paws over the gift to unreveal it. If your dog is anxious enough to see the gifts and fearful enough to unwrap them then let your dog participate in this gift unwrapping session. It is one of the fun ways to celebrate your dog's birthday and end it on a good note.
Read more: Fun Ways to Include Your Pet in Holiday Festivities
Besides, you also need to take care of the guest you have invited for the celebration of your dog's birthday. Make sure to hand over the return gift to them. You can either bake homemade cakes for a return gift or choose from dozens of DIY dog present ideas available on the internet. This will help you to save your expenses and yet make them cheerful. 
Hopefully, we have told you all the easy ways to make your dog's birthday memorable. You can opt for any of these amazing ideas to celebrate dogs' birthdays. These ideas will help you to host your dog's birthday effortlessly. 
The post Fun Ways to Celebrate Your Dog's Birthday-Pets devotee appeared first on .