For humans, an aquarium can be just a beautiful addition to their home, but for fish, it is their whole ecosystem that requires regular cleaning and maintenance. Proper cleaning and maintenance of aquarium is very essential to ensure the good health of your fish.
If you neglect the aquarium's cleanliness, it will lead to poor water quality, which can further lead to the death of fish in the aquarium. So, if you have recently bought a fish aquarium and don't know how to clean a fish tank or aquarium, then we are here to help you. Follow the steps provided in the blog to learn some aquarium cleaning tips that will keep your fish healthy for long.
Step 1: Plan ahead and gather necessary supplies:
Before you start cleaning your aquarium, it's essential to plan ahead. Make sure you have all the necessary tools, such as a siphon, an algae scraper, a bucket, a cleaning pad, and a de-chlorinator, to start aquarium cleaning. You can also purchase an aquarium cleaning kit
Instead of purchasing all these items separately as it will cost you cheaper. These tools will help you remove contaminated water and debris from the tank. 
Step 2: Turn off the Electrical Equipment
Make sure that you have turned off all the electrical equipment attached to the aquarium, including the filter, heater, and lights. Doing so will protect you from electric shock and prevent damage to the equipment. 
Step 3: Transfer the fish to a bowl or bucket
After switching off all electrical equipment, it's time to start the fish aquarium maintenance process. First of all, you have to transfer the fish into a bucket or bowl filled with water. If you don't do so, your fish might get panicked and disturbed. Be sure to use a container that is large enough to accommodate your fish and provides plenty of room for them to swim.
Step 4: Pour dirty water out using a siphon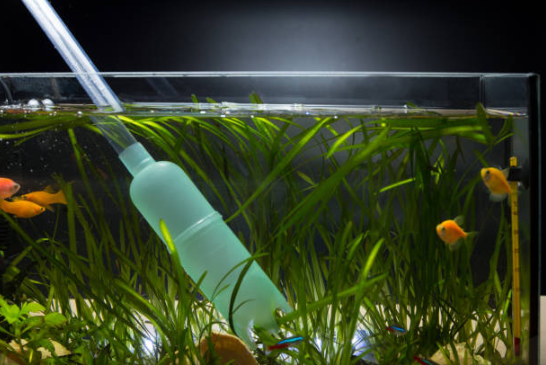 Start by carefully pouring out the dirty water from the aquarium tank using a siphon. A siphon will remove around 25% of the water from the tank including any possible debris and waste that has accumulated in the tank. Be careful not to disturb the substrate or decorations as you siphon the water out.
Step 5: Use the algae scraper to remove algae buildup.
If you haven't cleaned your fish tank in the past month, then possible algae will have accumulated on the wall of your fish tank. You can remove this using an algae scraper. Be careful while scrapping algae and do not scratch the glass or acrylic.
Step 6: Clean the Glass
Cleaning aquarium glass is an essential part of maintaining a clean and healthy aquarium.  For this, you have to empty the fish tank and thoroughly wash it using clean water, use a sponge or an aquarium cleaning brush to clean algae stick to the surface of the glass.Be gentle when cleaning the glass otherwise, there will be scratch marks on it. 
Step 7: Vacuum the Gravel
Cleaning aquarium gravel laying on the bottom of your aquarium is essential to remove any debris that may be trapped. You can use a siphon to remove water from the tank and an aquarium cleaning magnet to pull all the gravel out of it. Put the gravel in a plastic strainer and wash it thoroughly under running water. Remove any kind of waste, debris, or external particles from the gravel. Rub the gravel gently if needed to remove algae sticking to the surface of the gravel. 
Step 8: Clean decorations or substrate with a cleaning pad
It is recommended to use a cleaning pad to scrub algae off any decorative item used in the fish tank. Be gentle and careful while scrubbing, and do not damage any objects in the tank.
Step 9: Rinse everything thoroughly with clean water.
After you have removed the water, algae, and debris from the tank, rinse everything thoroughly with clean water. This includes the siphon, bucket, and any other tools you used to clean the tank.
Step 10: Refill the tank with dechlorinated water.
Once everything is clean and rinsed, refill the tank with fresh, dechlorinated water. Be sure to add enough water to bring the tank to the appropriate level for your fish.
Step 11: Place all equipment back in the aquarium.
Place all the decorative items back in the fish tank. Also, turn on all the electrical equipment in the aquarium and wait for the water to reach the proper temperature before returning your fish to the tank.
Step 12: Test the water parameters
Once the temperature of the tank comes back to normal, make sure to test the water parameters to see if they are within the appropriate range for your fish or not. This will help ensure that your fish remain healthy and happy in their clean, well-maintained tank. Also, avoid overcrowding your aquarium with multiple or large fish, as it can lead to poor water quality and stress for your fish. Make sure to provide enough space for each fish to swim comfortably.
Final thoughts: 
Maintaining a clean and healthy aquarium requires consistent care and attention. Neglecting your aquarium's cleanliness can lead to poor water quality, which can be harmful to your fish's health and even lead to their death. By following these aquarium cleaning tips, you can ensure your fish have a safe and happy environment to thrive in. Regular maintenance not only keeps your aquarium looking beautiful but also ensures that your fish remain healthy and happy. With these tips, you can enjoy your aquarium and your fish for years to come.
The post Essential Aquarium Maintenance Tips for a Healthy Fish Tank appeared first on .