Keywords: dog hair, non shedding dogs, short hair dogs, dog hair loss home remedies, home remedies for dog itching and losing hair, dog hair fall medicines, dog hair loss treatment home remedies
Hair shedding is common in dogs where some breeds shed less hair while other breeds are prone to shedding. Dog owners are familiar with the shedding pattern of their breed. A healthy amount of shedding is normal in dogs but excessive shedding is when the problem occurs. At some point, it gets annoying and irritating seeing a dog's fur everywhere in the house. 
Furthermore, it creates problems for the dog because hair fall can cause small and dark patches on their skin. That is why it becomes necessary to find the remedies to stop or reduce the dog's hair loss. So, what are the home remedies for dog itching and losing hair? In this article, we have listed the 7 best home remedies for the dog's hair loss. 
Causes of hair loss 
Before jumping on the remedies let's first look at the reasons for the dog hair loss. There are several potential reasons that cause excessive dog's hair loss. Depending on the cause different home remedies are required. Below are some of the common causes that are responsible for your dog's hair loss. 
Mites on your dog can cause hair loss and leave out dark patches on their skin. There are three types of mites that can cause infection and hair loss that are ear mites, Demodex mites, and Sarcoptes mites. 

A dirty coat leads to skin infection and hence hair loss. Ringworm is a common infection that infects the skin and causes hair loss.   

If your dog is continuously licking one area of its body it can result in acral licking dermatitis which causes hair loss. The oval patches on the skin, red area, hairless, and sore are the common symptoms of acral licking dermatitis. 

Allergies also cause excessive hair shedding. The common symptoms of allergies in the dog's skin are itching and redness. 

The hair loss also depends on the breed of the dogs. There are a few

non shedding dogs

like Mexican hairless and Chinese crested. But some breeds are prone to excessive shedding's like Italian greyhounds, Chihuahuas, Dachshunds, and Whippets. 
Now that we know the causes of hair loss in dogs, let's head towards the remedies that will help you to reduce excessive hair loss.   
1. Try using Apple Cider Vinegar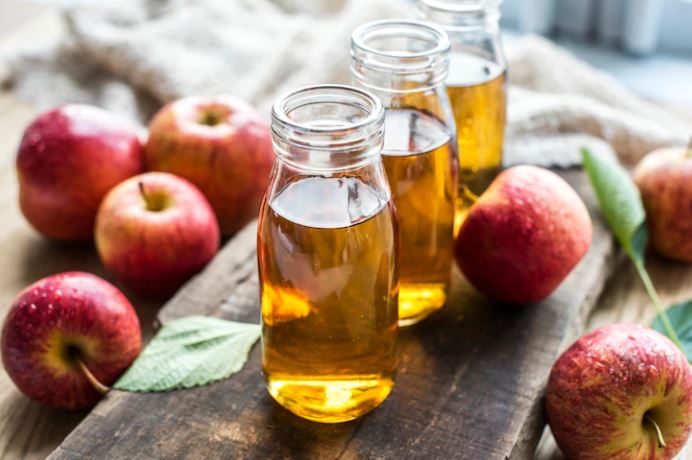 You might have heard of apple cider vinegar from your parents. Have you ever thought of the benefits of this vinegar? Apple cider vinegar is acidic in nature and is the perfect remedy for antifungal and antibacterial. This means that you can apply apple cider vinegar to the irritated skin and clean that area. It kills bacteria and germs and refreshes the skin. You can either pour a small amount of the liquid on your dog's infected area or add the cider vinegar to the bathing water. 
Read More: What can you do at home to take better care of your dog?
2. Humidifier also helps in reducing dog's hair loss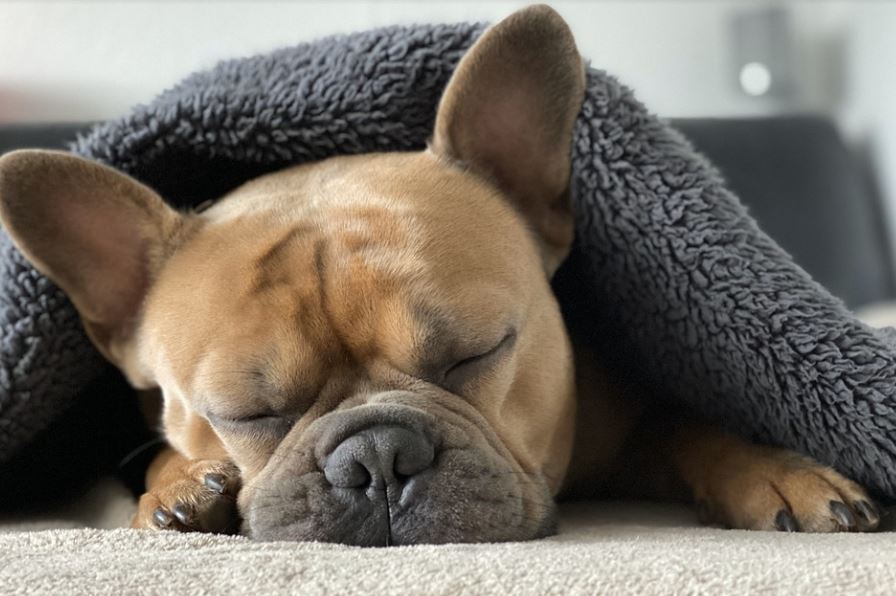 The thick fur generally causes dry skin and loss of hair in dogs. The best way to battle this problem is the use of a humidifier. The humidifier maintains the right amount of humidity in the environment which helps to soothe the dog's skin and prevent itching. Plus, it reduces the loss of hair. Keep the humidifier near your dog's house. It is also included in the easy method of countering hair loss. 
3. Try using lemon juice once
Lemon juice is just like apple cider vinegar because it is also citric and acidic in nature. The acidic form helps in fighting against the bacteria and germs plus it restores the pH in the irritated area. You must know that most hair loss happens due to a skin problem, so ensure that you solve the skin problem first. 
4. Brush your dog's hair regularly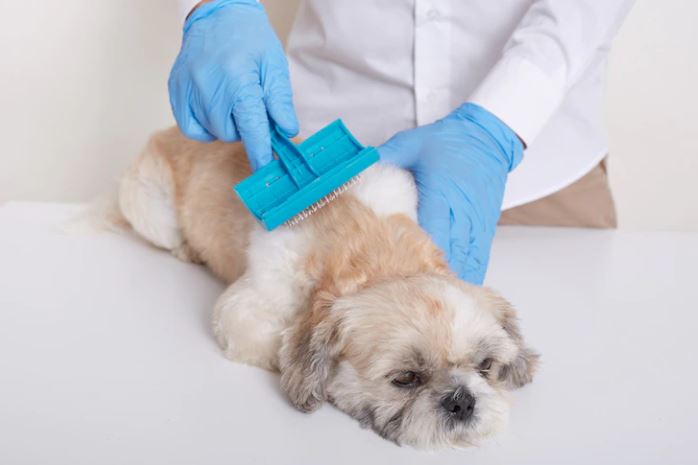 This is the simplest dog hair loss treatment home remedy. Who knew using the brush on your dog's coat can do wonders. Why does this treatment help in reducing hair fall? Well, the answer is simple. The dog's skin holds natural oil that helps in keeping the skin healthy and moisturized. 
However, the amount of oil on the skin is less and it generally does not reach the coat. And that's where brushing comes into play. It distributes the oil to the upper part of the body. This tip only works when you brush your dog's hair regularly. It is the easiest and the best way for dog hair loss home remedies. 
Read More: How to know your pet is overweight or not?
5. Use tropical olive oil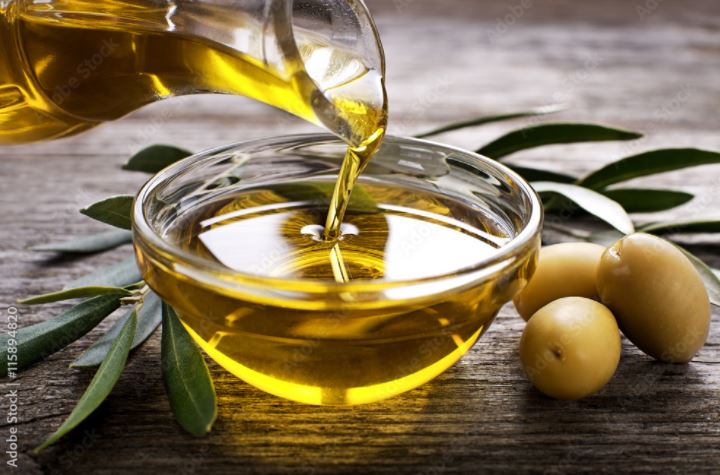 Humans use olive oil in cooking and also apply it to their bodies for skincare. Similar to humans, olive oil is great for the dog's skin. If your dog has dry patches on the skin then apply this oil to that area. It soothes the rough patches and makes the skin healthier. For moisturizing dry and rough skin olive oil is the best. 
Furthermore, it kills the mites and reduces hair loss. Just massage the infected or irritated area gently and you will see the instant benefit. Make sure that your dog does not sit on the bed or any good furniture for some time. Long as well as short hair dogs go with excessive hair shedding at one point and olive oil is the best home remedy to counter this problem.  
6. Add Omega Biotics in their meal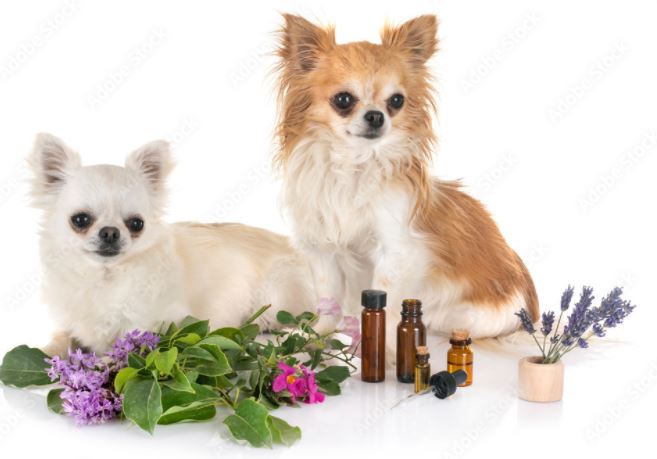 You can add some extra vitamins and nutrients to your dog's meal to keep them fit and energetic. There are many such supplements available in the market. We will recommend you consult with the veterinarian before giving any supplement to your dog. Omega biotics are powerful biotics chews and a high source of energy.  
The best part of these probiotics is that they are delicious and easy to carry. You can take them while walking your dog or during playtime or even on vacation. This fish oil supplement is great for your dog's skin and coat. Flaxseed is the number one source of Omega fat that will also do wonders when added to your dog's daily diet.   
7. Aloe Vera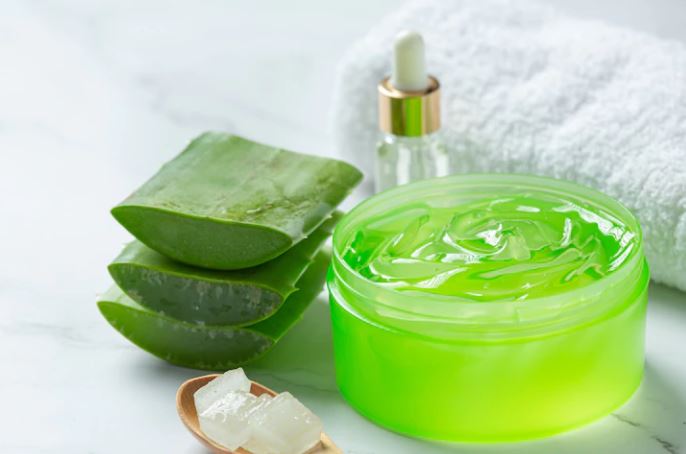 Yes, you heard it right. This herbal plant has many benefits for a healthy body and skin. We all are familiar with the properties of aloe Vera and its benefits. During summer people consume aloe Vera because it helps in maintaining the temperature of the body and keeps the skin healthy. The same phenomenon goes for your pet dog. 
Read More: Best Fun Brain Games For Dogs
The number one cause of hair loss is a skin infection and allergy. Apply aloe Vera on the infected or irritated skin regularly. Make sure that you apply it after washing that infected area thoroughly. This is one of the simplest and easiest dog hair loss home remedies that we have included in our list.   
In this article, we have included the 7 easiest dog hair loss treatment home remedies for you. You can find antibiotics and anti-allergic creams and liquids easily in the store. Instead of giving dog hair fall medicines, it is best to treat them with probiotics and apply creams on the infected area. You can choose any of the above remedies mentioned and do it regularly. Do not break the cycle if you want to get the result fast. 
The post Dog Hair Fall Treatment Medicine and Home Solution appeared first on .