Fish are one of the most popular pets in the world, and many people love to keep them in their homes. But did you know that there are certain Vastu tips for keeping fish in a house?
Vastu Shastra is an ancient Indian science of architecture and design that helps create a harmonious balance between the environment and humans. It is thought to have come from the Vedas, which is one of the oldest Hindu books. This science has been used for centuries to design homes, temples, offices, and other structures. But do you really follow this science when decorating your house or placing a fish aquarium in your home? If not, then it's time to think again and change the design and placement of a fish aquarium. 
Today we will share some Vastu tips that will not only help you create a harmonious environment for your fish so that they can live a healthy life, but will also bring wealth and success into your life. 
1. Choose the right direction to place your aquarium
Fish are considered lucky charms if they are kept in the right direction. They have the power to activate and enhance luck. If you want to improve your socialization skills, and friendship, keep it in the southeast corner of the living room. Whereas, if you are looking for financial profits and career growth, then place it in the north, east, or northeast direction. 
2. Add colorful flowers to your fish tank
Colorful flowers in a fish tank bring prosperity to your home. It happens to all of us from time to time that everything goes perfectly but we end up feeling lost and disturbed. This might happen because you put the wrong elements and items in your fish tank. You can replace undesirable items in your aquarium with colorful flowers to attract prosperity. 
3. Place it in the southwest corner of your living room
If you want to add a water element or a fish aquarium to your house, then ensure that you place it in the southwest direction. If you want to place the aquarium in the living room or hall, then make sure to place it where it is visible to every visitor.
4. Place the aquarium in the north direction
If you want to place the aquarium in rooms other than the living room, then make sure it is placed in the north direction.
By following the above-mentioned principles of Vastu Shastra, you can create an environment that will not only be beneficial for your fish but also help bring positive energy into your home. 
A big no to these places: 
Aquariums are beautiful, but they shouldn't be kept in the bedroom or kitchen as they can cause sleep and cooking-related issues. Having an aquarium in the kitchen could potentially cause arguments between family members.

Do not place an aquarium in the center of the house, as that is not the correct spot to place it. Instead, keep it on the corners. Placing the aquarium in the center of the house or living area can cause financial difficulties for you.

A water-based decorative item should be kept facing south. So, if you have your aquarium placed on the east side directly near the window to absorb the first ray of sun, then replace it immediately. 

Don't place a fish aquarium under the stairs or a beam. 

Keep your aquarium away from direct contact or close-by electronic devices as it can cause stress among fish, which will eventually affect your health and prosperity. Don't place it in a room fitted with an air conditioner, on the side of a TV, or close to a home theater.

Keeping the aquarium in a bedroom attracts negative energy and causes sleep disruptions. So make sure not to place an aquarium in the bedroom. 

There should be no aquariums or

fish tanks

facing southeast. According to Vastu, this is the direction of the fire element, and it is a flaw in Vastu to keep an aquarium in this direction.

According to Feng Shui experts, fire and water energies would clash with each other, so you should avoid keeping the aquarium near any heat sources like a fireplace or radiators.
How to Choose the Right Aquarium as Per Vastu?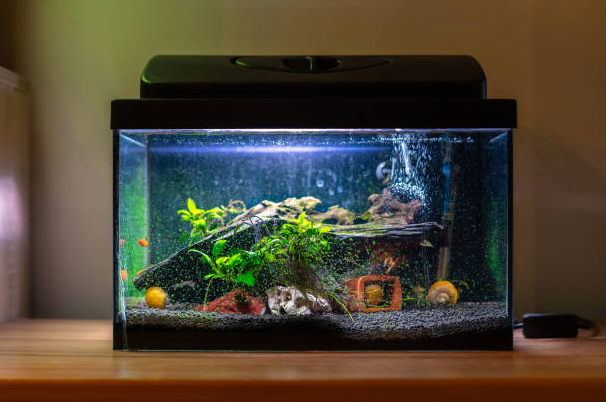 Aquariums can be a beautiful addition to your home, providing a peaceful and serene environment that can help soothe and calm you. An aquarium is a great way to add beauty and life to your home. If you like aquariums, you might be interested in how the ancient Indian science of architecture and design, Vastu Shastra, can be used to improve your home. Vastu Shastra is all about making a space feel good by balancing and harmonizing the energies in it. Here are a few tips to help you choose the right aquarium as per Vastu:
Determine the right location: According to Vastu, the best place to keep an aquarium is in the north or east direction. This is because the north and east are considered to be the sources of positive energy in your home. Placing the aquarium in these directions can help to attract positive energy into your home.
Consider the size and shape: The size and shape of your aquarium are also important considerations when choosing an aquarium as per Vastu. Round and square-shaped aquariums are considered to be the most auspicious, as they promote the flow of positive energy. On the other hand, triangular and rectangular-shaped aquariums are not recommended, as they are believed to cause energy blockages.
Choose the right fish: When it comes to choosing the right fish for your aquarium, you should choose those that are peaceful and harmonious. Aggressive fish can create negative energy in your home and should be avoided. You also shouldn't keep dead fish or plants in your aquarium because they can also bring in bad energy.
Clean and maintain your aquarium regularly: A clean and well-maintained aquarium is important to keep the positive energy flowing. Regular cleaning and maintenance will help to keep your aquarium healthy and free of any negative energies.
Decorate the surroundings: Finally, you should decorate the surroundings of your aquarium in a way that enhances the positive energy. You could, for example, put a small fountain or other decorative items near your aquarium to bring in good energy.
By following these tips, you can choose the right aquarium as per Vastu and create a peaceful and harmonious environment in your home. Whether you're an experienced aquarium enthusiast or just starting out, incorporating the principles of Vastu Shastra into your home can bring many benefits.
The post Complete guide to Vastu tips for keeping fish in a house-Petsdevotee appeared first on .