Like humans, dogs and cats also tend to suffer from stress and anxiety. It's as common in them as in humans. In general, we get stressed while going to a new place, meeting new people, and when our daily routine gets disrupted. Similarly, dogs also feel stressed and anxious when they foresee an unusual incident or feel uneasy due to any bodily problem. There could be many reasons for which a dog can feel anxious, frightened, frustrated, or disappointed. The only difference between humans and canines is that we can express our thoughts by communicating with our friends and family members about the issue but canines can't. It's us who have to understand their stress by observing their gesture and behavior. If you are concerned about your dog or can and want to know what causes stress in pets then this article is for you? 
Here we are telling you some common causes for which dogs and cats get stressed and Signs that tell you about the Stress in Dogs and Cats
Common causes for stress in dogs and cats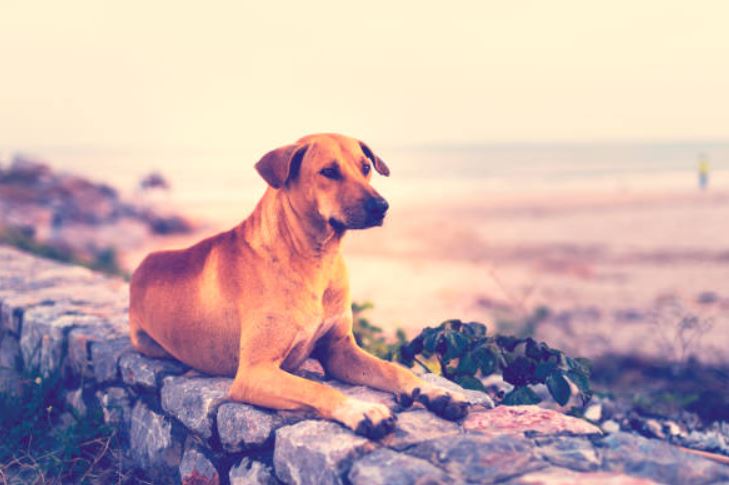 The reason for stress in dogs and cats might sound silly to humans but being voiceless creatures these reasons are obvious on their side. These common reasons can abruptly create anxiety in dogs' and cats' behavior. So, you need to have great compatibility with your pets to understand the signs. 
Majorly, canines feel stressed and tired when they are not physically fit. It might be due to overeating or change in their daily routine like lack of exercise or an extended walk. 

The other

cause of stress in dogs

would be socializing or moving to a new place. In spite of being human, it took us so much time to adjust to the new place and new people living over there. The behavior of cats and dogs is somewhat similar to humans. Hence the reason why your dog is looking stressed may be the new location or new people around them. As soon as they get comfortable with the new place and new people they will get normal. 

Dogs and cats are creatures with sensitive aural faculty hence Loud noises can make them anxious. That's the reason why they get frightened by the loud noise of crackers, honking, and a Gun firing. 
Read more: Prepare Your Dog to Be Left at Home Alone
Common Symptoms/Signs of Stress in Dogs and Cats
Dogs and cats are very sensitive in behavior and a little negligence in their care can affect their mood. So, you need to be very punctual in maintaining their schedule of food, exercise and walking. A little change in the timings can affect their mood and they get stressed. If you are a dog parent for a long time then you would easily be able to feel the change in the behavior of your furry partner. But if you have recently owned a dog or cat they might face difficulty in observing their behavior. Maybe they are barking continuously and you are unable to calm them down. It may be they are licking you excessively and you are unable to understand the reason behind this. To get a correct answer to all such problems, we are here to help you with common signs of stress in pets.
Whining or Barking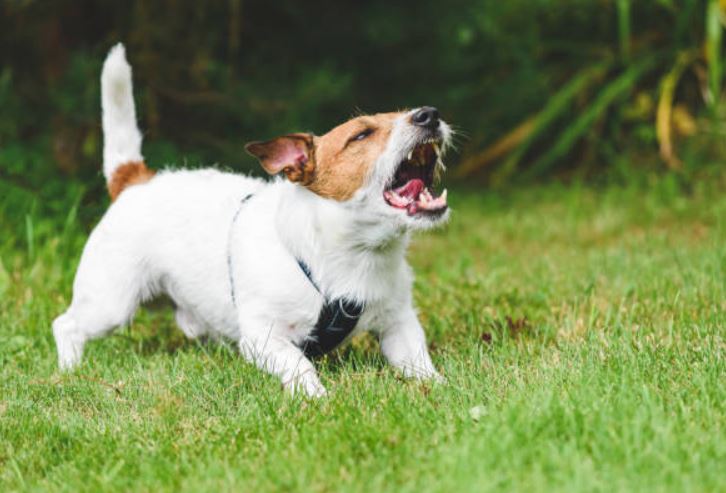 It is the most common sign of stress in dogs yet we many times fail to understand them. Like humans they can't talk hence they show their anxiety through barking or Whining. Dogs usually bark when they see a change around them. It may be a new person approaching them or some other creature trying to get into their place. So, if your dog is barking continuously or creating a high-pitched crying sound (Whining), never ignore them. It might be possible that they are in trouble and they are barking to make you conscious of any danger. 
Pacing or shaking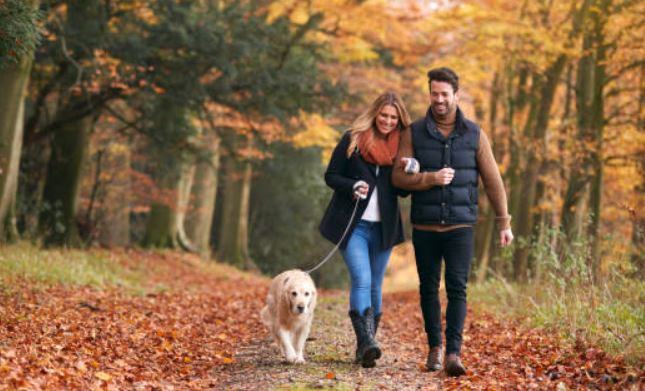 Shaking and pacing is a very common behavior of dogs and they used to do this when they needed to cuddle up with you or after a bath. 
If your dog is in your lap and he is still shivering, then it might be a cause of concern for you. Wait! As it might be a good indication that he is stressed or frightened of something. Through this, they are showing that they are feeling uneasy. 
Dogs and cats usually shiver when they feel stressed about visiting a veterinarian. If you observe continuous shivering in the body of your pet then hold them and try to calm them down. Distract them by playing or take them on a short walk to the ground and let them play with other canines to let the stress slip off their mind.
Growling
Growling in dogs shows aggressiveness and it is another way to tell you that they are uncomfortable or threatened. The Growling sound created by dogs is just a warning to stay away and many people stop or punish their dogs from Growling. Understand that it's their way to express their feelings and if you don't let them Growl they will instead jump and bite without a second thought. So, we must respect their way of expressing anger and insecurity and let them growl. Also, instead of punishing them, try to understand the reason behind growling to calm them down.
The best example to understand this is dogs hates when someone impedes them while eating and it's the time when they make a growling sound. If a dog is Growling over food, then give him space and let him eat peacefully. 
Read more: Fruits and Veggies that Double as Healthy Dog Treats
Yawning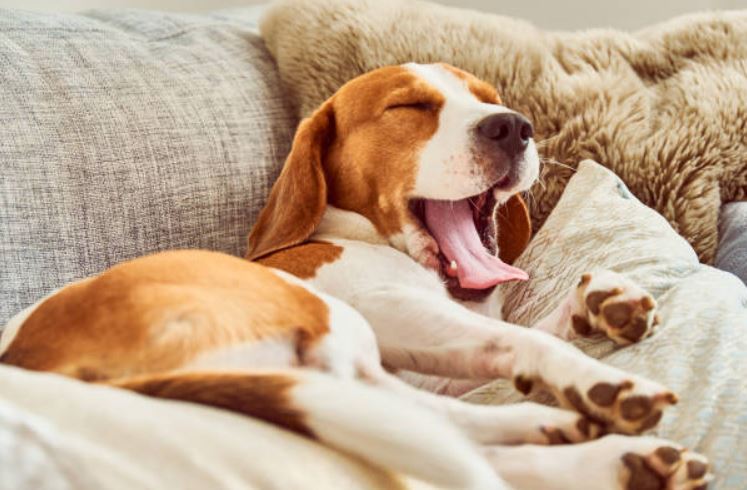 Yawning is a common symptom of tiredness in dogs and he yawns when he wants to sleep or take a rest. Even in humans yawning is common and we get tired. If your dog is yawning too much or frequently even after taking proper sleep then it might be something that is troubling him. Yawning due to tiredness is short and quick. While if your dog is yawning due to stress then it will be an extended and more intense than a sleepy yawn. 
Drooling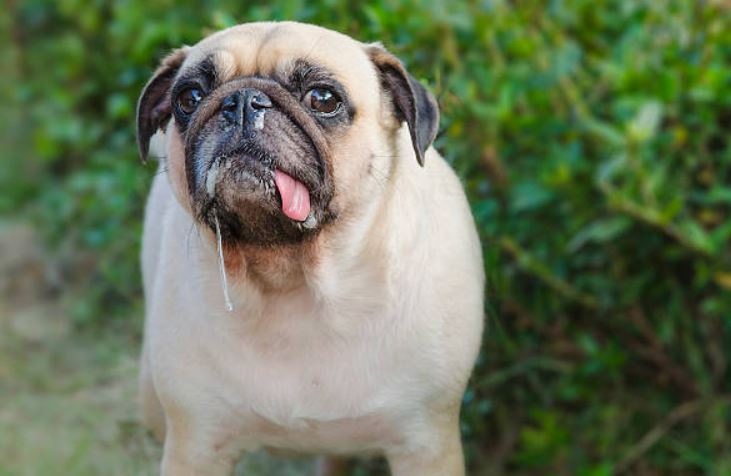 Drooling may be a sign of pleasure or craving for delicious treats in humans but in canines, the concept of drooling is completely different. Though drooling is a very common habit in them but excess of anything can be hazardous. Hence if your dog is drooling heavily then it is a sign of stress in pets. It might be an indication of his anxiousness.
Excessive Licking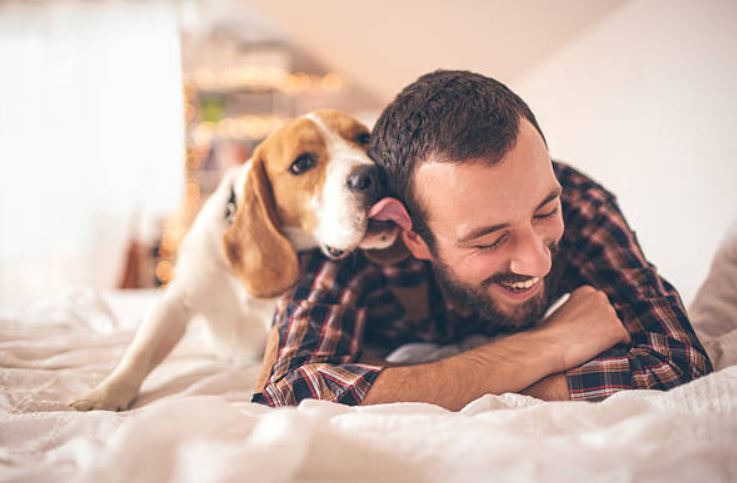 Licking is a very cheerful gesture in dogs and they used to lick the one they love the most. But excessive licking can be a reason for stress in pets. Hence you need to carefully observe the behavior to understand whether they are licking out of affection or out of fear. 
Pets often lick their nostrils to keep them moist and but doing this in excess can be a sign of distress, stress, nervousness, or anxiousness. So, if your dog or cat is licking excessively then take them to a vet to understand and cure the cause. 
Read more: Fun Ways to Include Your Pet in Holiday Festivities
Hair Shedding
Shedding is another common behavior in dogs that show anxiety and stress. Continuous stress leads to overblown shedding and sometimes it results in the removal of the coat in a dog or cat's body. If you have ever visited a dog show at a circus you might have seen completely shredded dogs. This is due to excessive shedding of fur due to the nervousness of performance. If your pet dog is manifesting the same symptoms then it might be due to excessive stress and nervousness. You can anytime consult your family veterinarian to solve the hair shedding problem in dogs that is caused due to anxiousness. 
All of the above are the most common Signs of Stress in Dogs and Cats that you get to see often in your pets. These are among the common behavior, and it's hard to differentiate whether they are doing this out of fear, anxiousness, or stress, or it is their normal behavior. To understand the concept behind this, you need to understand the gestures of your furry partner. Apart from this, body gestures and postures of pets are also a sign that we should consider while understanding the signs of anxiety in pets. If they are chewing, Scratching, Panting, or changing the position of their ears then it is a high possibility that something is troubling them. Additionally, stress can even sometimes result in the expansion of pupils, widening of the sclera (white part of the eyeball), or blinking rapidly. 
The best you can do to cure stress in dogs and cats is to look them out and understand their pain. Many times we are unable to understand the signs of stress in dogs and cats and assume their signs as a part of their day-to-day behaviors. But we being humans, 'an understanding creature', need to comprehend that anything that is happening in excess or in scarcity is never common. Your pet might be seeking immediate help from a professional veterinary to get rid of stress in dogs and solve this problem. To help your pet to deal with stress you can also make them feel comfortable in their own space, and try to communicate with them to understand the problem. 
The post Common Signs of Stress in Dogs and Cats- Pets devotee appeared first on .